Mar 27, 2007
Hartman Eclipses Club 1500m Record
Damiani Breaks 16:00 at Foothills 5k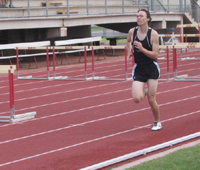 Joel Hartman on his finishing kick in the 1500m.
Glendale, AZ — Joel Hartman placed sixth while running 4:29.78 in the 1500m. With that mark Joel breaks the club record previously held by Au Nguyen by nearly 1 second. The team competed at the Glendale Knights of Columbus Invitational.
In the same race AJ Jimenez ran 4:37.51 for 9th place with Glenn Jackson and Jon Miller crossing the line in 5:11.91 and 5:23.40 respectively.
Michelle Resendez ran a comfortable race but afforded the eventual winner too much of a cushion before the finishing kick to cross the line 4:53.16 for a second place finish in the 1500m.
Running a season best with a time of 5:19.41, Penny Tinker finished 6th. Emily Hartman and Necole Jim followed in 5:42.55 and 6:08.55 respectively.
Joel and AJ ran 800m for their second event of the evening finishing in 2:16.69 and 2:12.02.
The Foothills 5k was held Saturday morning in Cave Creek, Arizona. Anthony Damiani made the trek north to take part in the event.
An impressive time of 15:59.0 allowed Anthony to finish fourth overall and first in his age group category.
The team will pack their bags and head to the Pacific Ocean to take part in "The World's Fastest 5k" in Carlsbad, California. The Carlsbad 5000 is home to 16 world records. If you can't be there to see it live you will be able to tune in to Fox Sports Net and experience the excitement on television (check your local listing).