Mar 11, 2007
Women's Second in DMR and 4 x 800 Meter Relay at Arizona Relays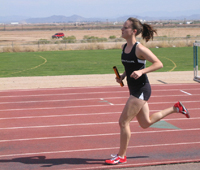 Coolidge, AZ: The Wingfoot Finish women's team faired very well in their events at the Arizona Relays, including two second place efforts in the distance medley and 4 x 800 meter relays. The event was hosted at the campus of Central Arizona College.
The first event for the team was the women's 4 x 800m. The combination of Penny Tinker, Deanna Adams, Brianna Spletstoser and Michelle Resendez covered the acreage in 10 minutes, 10.24 seconds to grab second-place honors and establishing a club record in the event.
The men had to patch together a team to complete a foursome for the event. The trio of Joel Hartman, Jorge Rubi and Anthony Damiani were the Wingers that did run to share in the newly established club record.
In the women's distance medley, Penny once again led off and burst out to a lead after the opening 800m leg. She passed the baton to Amaree Wright.
Amaree was past within the first 100m of her 400m leg by her competitor from Central Arizona. Amaree put in a powerful surge at about the 200m mark to close the gap and took the lead back with about 100m to go.
Brianna took the baton and extended the lead with a strong 1200m leg before the final handoff to Michelle.
Michelle appeared to be in prime position to deliver Wingfoot it's first-ever DMR title. That accomplishment was not to be, as Central Arizona uncorked a remarkable anchor leg that gave them the victory. Michelle was stride for stride in the last two laps of the 1600m leg responding to each surge. Each surge kept ratcheting up the pace through the home stretch.
The final time of 13:08.57 was about 1 second shy of the victory but establishes the club record in the event.
The men had to bring in a couple of other substitute as Joel and Rubi put in gutsy efforts in the men's distance medley.
Wingfoot Finish will send its team to Tucson to compete in the Willie Williams Invitational on Friday night. The first team member will take to the track at 7:10 PM, to compete in the women's 5000 meter run.