Mar 04, 2007
Excellent Performances at Wildcat Classic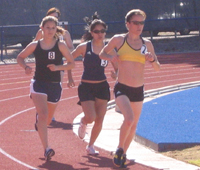 Michelle Resendez takes the lead in the 3000m run.
Tucson, AZ — The Wingfoot Finish Racing Team competed at the Wildcat Classic on Saturday, March 3, 2007 at Roy P. Drachman Stadium in Tucson, Arizona.
Brianna Spletstoser bettered the club record mark in the 1500 meter run, placing fourth in the event in 5:02.39. With her time of 2:27.41, she placed third and established the 800m run club record.
Michelle Resendez won the 3000m run with a time of 10:28.03, outpacing her closest competitor my nearly 30 seconds. Deanna Adams and Emily Hartman finished fifth and sixth in 12:55.13 and 13:05.02 respectively.
Au Nguyen was fifth in the men's edition of the 3000m run, crossing the line in 9:48.92.
Joel Hartman finished in sixth place in the same event in a time of 10:26.80. This was accomplished after running the 1500m run in 4:39.52 to come in fourth place.
The team will compete at the Arizona Relays on March 10 in Coolidge, Arizona, before returning to Tucson to compete at the Willie Williams Classic on March 16.