Feb 12, 2007
Wingfoot Finish Team Wins A Fine Valentine 5 Miler Relay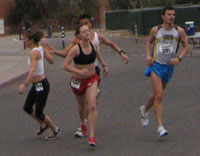 Anthony, Brianna, Au and Michelle in the relay exchange zone.
Tucson, AZ — Au Nguyen and Michelle Resendez coupled up to be the top team at the "A Fine Valentine 5 Miler" relay.
The event held at the University of Arizona's Main Gate was hosted by the Southern Arizona Roadrunners Organization. The event drew more than 200 participants and 34 teams.
With the win, Au and Michelle declare bragging rights over fellow Wingfoot Finish teammates Anthony Damiani and Brianna Spletstoser, a right that was immediately invoked as soon as the race was over.
Anthony and Au led the race off. They started out with a conservative pace to be sure that they would not get lost in winding course through campus. The duo took a decisive lead with about a mile to go and approached the exchange zone will ahead of all the other competitors. Anthony reached and completed the exchange just ahead of Au.
Brianna and Michelle ran together for much of the race until Michelle realized that a one of the runner that had passed her was from another relay team.
Michelle gave chase and was able to surge passed her competitor and close with a strong finish to nail down the win with a time of 32 minutes, 11 seconds.
Brianna followed with a finishing time of 32:42 to finish third.
The team will lace up the spikes when they return to action on Saturday, March 3, when they go back to Tucson to take part in the Wildcat Classic. This is an early season track meet hosted by the University of Arizona.