Apr 13, 2008
Wingfoot Finish Athletes Dominate at Ahwatukee Foothills 5K and 1 Mile
Highlighted by Three Individual Winners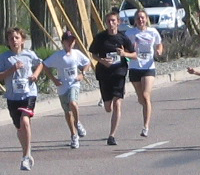 Jake and Lauren shortly after the start of the mile run.
The Wingfoot Finish newly formed "Juniors" division had their first test as team members competed in the 7th Annual Ahwatukee Foothills YMCA 5K and 1 Mile.
Big "kids" Joel Hartman and Michelle Resendez ran the five kilometer race (3.1 miles) while the rest of the Wingfoot Finish contigent participated in the one mile event.
Joel bettered his time from a week ago in Carlsbad to finish in 18:05 which placed him fourth. Michelle's time of 18:30 was good enough to take the win and the $100 prize purse.
"It was a brutal course," stated Michelle, "it was hilly, windy and I couldn't get in a rhythm. But it's done and now I can focus on the kids running the mile."
The team had nine members run the mile with great results as they all finished in the top 22 spots.
Jake Lindquist and Lauren Clark were the top athletes of the day as they finished in first and second respectively.
Geoffrey DeShazo was a couple places back to finish in fourth. Crossing the line in 6th, 7th and 8th were Rachael Clark, Sariah Graham, and Carlin Resendez.
The sprinter of the group, Kayla Murphy, managed the long distance with an impressive 11th place finish. Cyler Resendez put on a furious kick to finish in 16th place with Samantha Coy a short way behind in 22nd place.
Unfortunately, official finish times were not available for the mile run but according to coaches Michelle and Clyde, all of the kid exceeded expectations.
Shortly after the conclusion of this event and fresh off of his win, Jake was hurried off to a track meet to represent his school in the 800 meter run.
With a little over 200 meters left in the race he began to pick off his competitors to position himself in second place with 50 meters to go. He was edged at the line to finish in third.
Wingfoot Finish is back in action April 26, to compete in the Town of Gilbert, Hershey Track & Field meet held at Williamsfield High School in Gilbert, Arizona. The meet is scheduled to start at 9:00 AM.