Apr 07, 2008
Men's Wingfoot Finish Finishes Sixth at Carlsbad 5000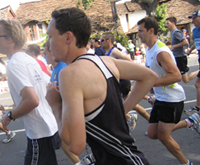 The Wingfoot Finish men's team finished in sixth place in the Open Men's division at the 2008 Carlsbad 5000.
Individually the team of Anthony Damiani, Joel Hartman, and Clyde Resendez all finished in the top one hundred spots of their division race.
Anthony was Wingfoot's top finisher on the day in 43rd place with a time of 17:46 over the 5k course.
Joel crossed the line in 18:13 to finish 52nd while Clyde was 72nd in 18:47
The team had some training setbacks leading up to the race but with the end result they are still able walk away from the experience with their heads held high.