Dec 15, 2007
1st Annual My Dr. Now
4.8 Mile Run & 1 Mile Fun Run/Walk
Arizona Running Events Co.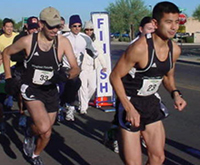 Photo by: Arizona Running Events Co.
Everyone got an extra mile+ as a Christmas gift at the My Dr. Now race in Queen Creek. It seems that when the course was measured there was a slight error in the distance. Instead of being the reported 3.1 miles the distance was actually 4.8 miles. A bit of a surprise to all.
Otherwise it was a great day for a run. Looking forward to see what surprises next year will bring for the runners.
Awards in the 4.8 Mile Run/Walk went to overall male Au Nguyen at 26:56 and female Jennifer Johnson at 29:52. Overall in the 1 Mile went to Ryan Sweet at 6:40 and Taylor Somar at 15:49.