Nov 26, 2007
Turkey Trot Winners
The Fountain Hills Times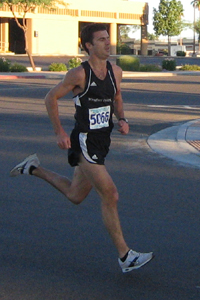 Anthony built a significant lead early in the race that allowed him to cruise to a comfortable win.
Anthony Damiani was the overall winner of the town's annual Turkey Trot on Thanksgiving morning. Anthony, running in the age 20 to 29 age category, clocked in a time of 16 minutes and 9 seconds for the 5K race.
Michelle Resendez was the female champion, racing in the 30 to 39 age division and checking in with a time of 18 minutes and 28 seconds.
The approximate attendance was 935 people, which included the fitness walk as well. Nearly 200 people signed up for the event that morning.