Oct 14, 2007
Michelle Resendez Dominates Long Beach International City Bank Half Marathon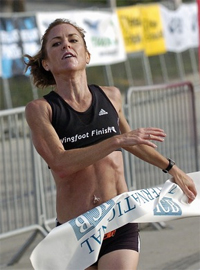 10-14-2007 - Scott Smeltzer/Press-Telegram
Michelle Resendez, from Mesa, AZ, wins the half marathon with a time of 1:19:28 during the 2007 Long Beach International City Bank Marathon Sunday. (
Full Picture
)
From all appearances, Michelle Resendez portrayed the beauty of human automation Sunday in running away from the field at the Long Beach International City Bank Half Marathon. For much of the 13.1-mile race, her short-quick stride resembled that of a horse in a full trot.
"I had two goals coming into today, run under 1:21 and go for the win. So I'm very happy that I was able to accomplish my mission" said Michelle.
Michelle didn't push to a half-marathon personal best but her time of 1 hour, 19 minutes, 28 seconds was over five and a half minutes better than her closest competitor.
The 60-degree temperature was ideal for running, said Erin Allen, who was in charge of race results and awards.
"The weather just couldn't be better," she said.
Anthony Damiani had an impressive run as his time of 1:13:55, to finish 11th overall was a mere 17 seconds off his personal best. Even more astonishing is the fact that he approached 90 miles for his training week… during the race.
I hadn't planned on doing much today besides giving a good effort so I was okay with my performance until I realized I was that close to my PR, now I'm (angry), Anthony said with a smile.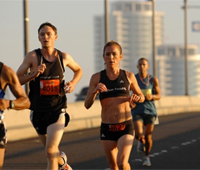 Half-Marathon runners Joel Hartman and Michelle Resendez of Mesa, Arizona cross over the Queensway Bridge during the 2007 Long Beach International City Bank Marathon Sunday, October 14, 2007. Resendez finished first place in the women's category with a time of 1:19:28.
Photo by Kevin Chang/Press-Telegram
Rounding out the Wingfoot Finish representatives was Joel Hartman who ran 1:21:59, to finish 33rd overall. Joel shattered his personal best time by 3 minutes and 47 seconds.
More than 17,000 runners, walkers and cyclists took part in the 23rd edition of the event, which featured a bike tour, wheelchair race, a 5K walk/run and full and half-marathons. The half marathon had over 6,000 finishers.
What's next? The team will take a week or so to reflect and plot out the next goal. Based on today's results, great performances are sure to be on the horizon.