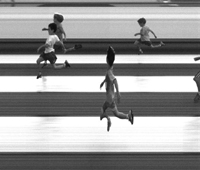 Gilbert, AZ Members of the Wingfoot Finish running club gathered at Higley High School to volunteer at the Hershey Track & Field Games. The event gathered over 250 kid ages 7 to 14.
The event spawned the idea to start a Wingfoot Junior club to encourage physical fitness in young children. More details will become available on the team web site soon.
Two of Clyde and Michelle Resendez's boys participated in the event. Cyler was the winner of his heats in the 50m and 100m dashes. Carlin's 4 x 100m relay team was the run away winner of that event.
With their win in the 4 x 100m, Carlin and his teammates will advance to the District meet on the 12th of May with a chance to go the state meet on the 23rd.
The big kids had planned on running a road race on Saturday morning but decided against it to instead run on a familiar course known as the Resendez 5000. The run was billed as a time trial as the number of participants was limited to only team members.
Au Nguyen paced Michelle to a season best at the distance and was clocked at 17:18.9. Anthony Damiani assisted Brianna Spletstoser to a 19:52.9.
Joel Hartman battled the morning heat and mustered up a 19:13.2.
The team's next scheduled event is set for May 19 at Mesa Community College when they will take part in the Master's Track & Field Invitational.